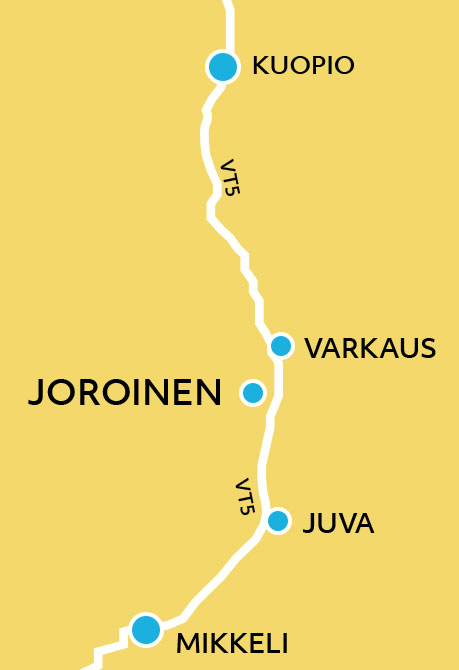 Joroinen – Paris of Savo
Joroinen is easy to visit all year round. The active village community hosts evening markets, rural fairs, summer theatre and Christmas markets, not to mention the annual Joroinen Music Days and triathlon competitions. Hiking and biking trails in beautiful ridge landscapes offer breathtakingly beautiful scenery, an award-winning golf course and Finland's longest frisbee golf course invite you to explore the lakes of Savo. Diverse accommodation as a base from which to explore the history of Joroinen and its surrounding area!
joroinen.fi »
Events
Finntriathlon Joroinen 15.-16.7.2022
Finnish triathlon was born in Joroinen in 1983. Finntriathlon Joroinen is a unique triathlon event that takes place every summer, where domestic triathlon participants and individual athletes compete for superiority.
There can only be one winner in the true classic Finnish endurance sport: Finntriathlon Joroinen is a must-see for yourself! The magical spirit of Joroinen is a concept that cannot be explained. One can only truly feel it by being there.
The Finntriathlon weekend offers a full table of triathlon delights- ranging from a free kids' triathlon to intensive half distance Finnish national starts. Fitness enthusiasts will be able to test their limits, either in the sprint or in the half distance age series.
Welcome to Joroinen, the Hawaii of Finland!
Joroinen Music Days
Atmospheric manors and magnificent churches are at the heart of Joroinen Music Days and the festival also takes advantage of the region's most exclusive venues. Spread out over five locations in Sydän-Savo, the diverse program includes chamber music gems, children's events and entertainment concerts.
Evening markets
Joroinen hosts programmed evening market events during the summer (June 1st - September 30th)